Join Our Team!
(Updated 03/10/2022) 
CIR is hiring the following positions:
---
Project Coordinator (Moorpark and Cotati office)
Position Purpose:
This is a grant supported exempt position subject to annual renewal of grant funds. This position works under the supervision of the Project Director in supporting the programmatic needs of grant-funded training and technical assistance projects.
Position Duties:
This Coordinator will develop and implement a vast menu of services that includes training, technical assistance, resource development/distribution, and capacity building for child abuse and child abduction prevention, intervention, and prosecution professionals. Major duties include:
Identifying and meeting with consultants to develop curriculum
Meeting with advisory group members and/or key constituent group members to obtain input from field experts
Scheduling and coordinating training and technical assistance events across the state or nationally
Coordinating follow-up technical assistance
Researching topic areas of grant projects and conducting needs assessments
Representing the project at constituent groups, associations and organizations, and at conferences
Tracking project timelines, expenses, and deliverables
Providing organizational development and strategic planning assistance to relevant professional groups
Assisting with the development of grant proposals
Preparing reports.
Position Qualifications:
A minimum of a bachelor's degree in a social sciences subject related to delivery of human services and two years of advanced administrative experience, or equivalent combination of education and experience, is required. Must demonstrate successful experience in the following areas: monitoring budgets; coordinating multiple projects or project components conjointly; working as a team member in implementing projects. Experience with developing and implementing projects that deliver training and technical assistance services to those who work with children in prevention, intervention, treatment, and/or educational settings is preferred. Must have working knowledge of computers and word processing, database, and desktop publishing applications (i.e. Microsoft Word, Excel, PowerPoint, FileMaker Pro, and InDesign). Experience with utilizing a variety of social media platforms for professional purposes is strongly desired.
Interested candidates please send resume and cover letter to sonia.sandoval-edinger@cirinc.org
---
CIR is committed to providing a work environment free of discrimination and harassment. Discrimination or harassment is not condoned, nor will it be tolerated, in the work place or any related activity. This includes discrimination or harassment on the basis of ancestry, age, color, disability (physical or mental, including HIV and AIDs), genetic information, gender, gender identity, gender expression, marital status, military or veteran status, national origin, race, religion (including religious dress and grooming), sex (including pregnancy, childbirth, breastfeeding and/or related medical conditions), sexual orientation, or request for FMLA. All such discrimination or harassment is unlawful and will not be tolerated from any employee. In addition, CIR will take reasonable steps to prevent discrimination and harassment from occurring.
CIR's Manifesto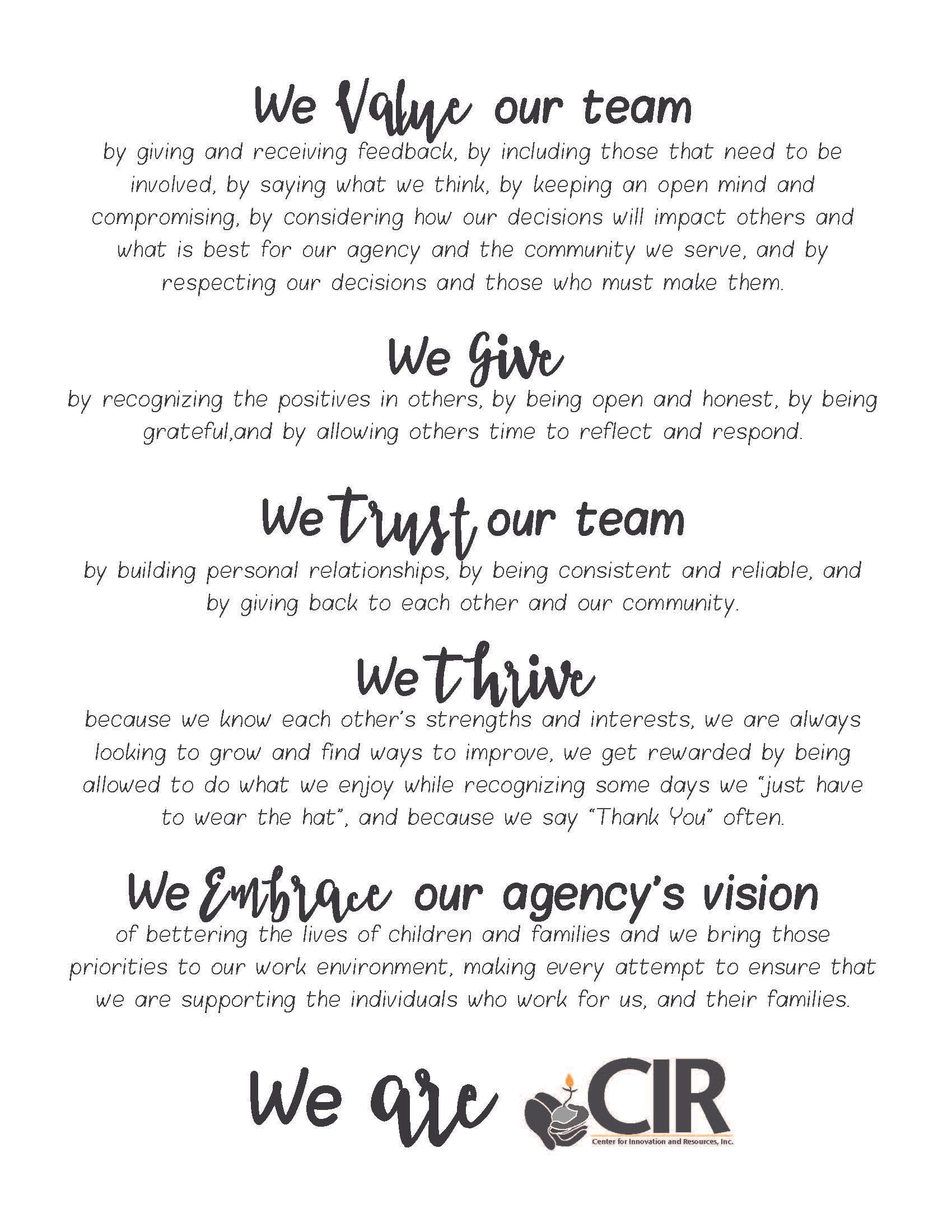 Can't Find a Training That You Are Looking For?
Connect with our team so we can figure out how to best meet your training needs!