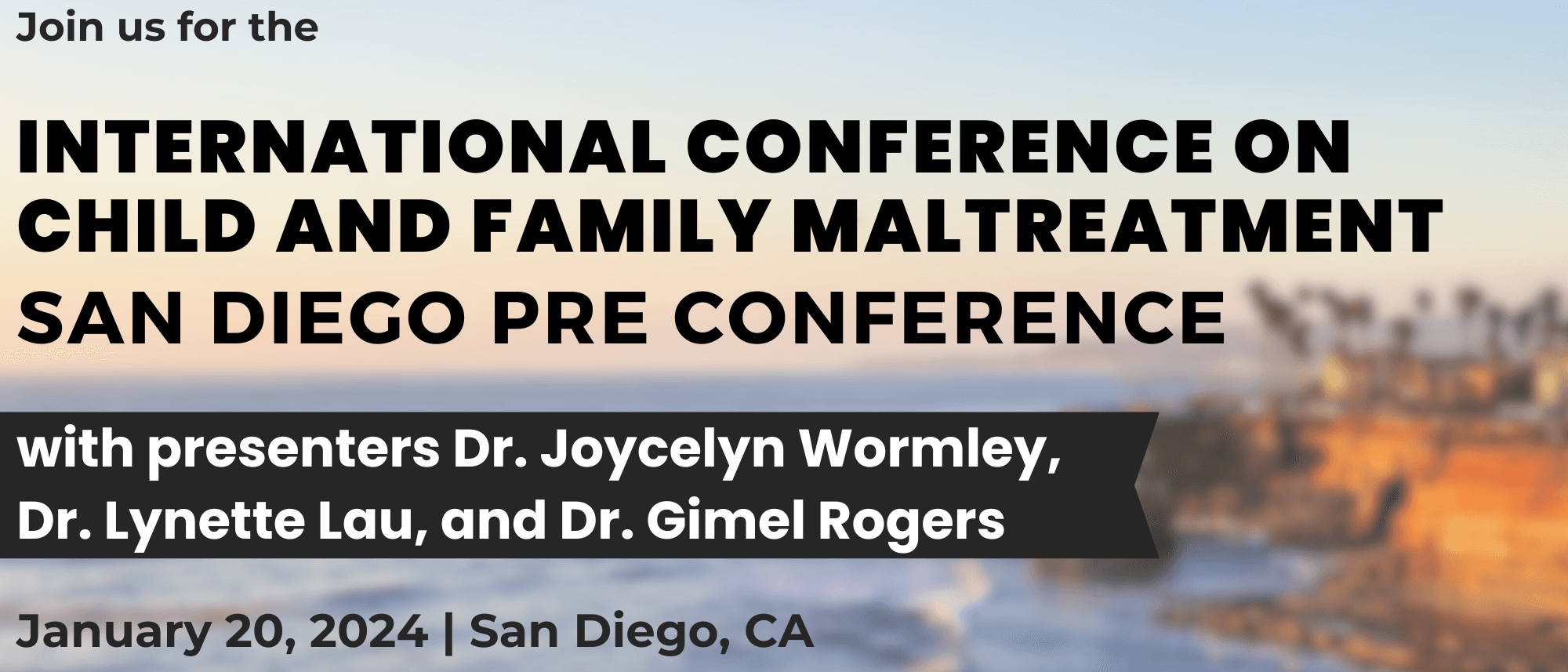 Building Cultural Competence to Serve the Whole Child and Family Presented by CIR
Saturday, January 20, 2024 from 8:00 AM - 4:00 PM | San Diego, CA
CANCELLED
Unfortunately, CIR has to cancel this event due to low registration.
---
Join us on Saturday January 20th before the San Diego International Conference for CIR's very special event, Building Cultural Competence to Serve the Whole Child and Family with presenters Dr. Joycelyn Wormley, Dr. Lynette Lau and Dr. Gimel Rogers. 
Overview
This interactive pre-conference session is designed for mental health professionals, forensic interviewers, child welfare workers, prosecutors, medical personnel, and other professionals serving children and families at all levels of experience. Presenters will explore issues of ability, race, gender, religion, and other factors that may intersect in ways that create complexity in the prevention, intervention, and treatment of child abuse. Participants will learn strategies and skills relevant to serving to children and families in a diverse setting.
Learning Objectives
1. Participants will learn give areas of family strengths that can be applied to child abuse reporting and investigation.
2. Participants will be able to list at least three strategies for designing services for inclusion of people with disabilities.
3. Participants will develop an action plan to apply concepts learned in this training.
About our Presenters
Reverend Dr. Gimel Rogers, Psy.D., Owner of F.I.R.E. Igniting Lives
Dr. Rogers, Psy.D., ABPP is a licensed psychologist and is Board Certified in Clinical Psychology from the American Board of Professional Psychology. She earned her doctorate from Pepperdine University and has provided trauma-focused care with clients from the Children of the Night Program, the Ventura Youth Correctional Facility, FCI Terminal Island, and community programs serving survivors of intimate partner violence. She is an expert witness and assists clients who are involved in criminal, family, and civil cases involving a broad range of forensic issues. She is Faculty and the Associate Director of the Online MAP/MACLP Programs at Pepperdine University. Additionally, Dr. Rogers presently works with survivors who are recovering from emotional, physical, and sexual abuse. She utilizes an array of therapeutic interventions with an emphasis on cognitive-behavioral therapy. She has published in the areas of culture, coping, spirituality, and trauma.
Dr. Joycelyn Wormley, SAFE Center, Sacramento
Dr. Wormley is a forensic interview specialist, CPS social worker, and lecturer at California State University, Sacramento. She specializes in Child Welfare Services and has spent more than a decade working with children, youth and families in diverse communities.
She received a Bachelor of Arts in Psychology from the University of California, Merced, a Master of Social Work (MSW) degree from California State University, Sacramento, and a Doctorate in Social Work (DSW) from the University Of Southern California (USC).
Dr. Lynette Lau, PhD, Harbor-UCLA Child and Adolescent Psychiatry Clinic
Dr. Lau is a licensed clinical psychologist specializing in infant/early childhood mental health, stress/trauma, and providing neurodiversity-affirming therapy to autistic and other neurodivergent individuals. trauma. She founded and co-leads the Intersectional Inclusion, Diversity and Equity Accountability Committee for the Psychology Division and Psychiatry Department at Harbor-UCLA and is strongly passionate about science, equity, and inclusion.
Continuing Education Credit:
All attendees will receive a certificate of attendance. Participants may also apply for Continuing Education Credits after the event. Course meets qualifications for 7 hour(s) of Continuing Education Credits for LMFTs, LCSWs, LPCCs, and/or LEPs as required by the California Board of Behavioral Sciences (Provider #128590). The Center for Innovation and Resources, Inc. (CIR) is approved by the California Association of Marriage and Family Therapists to sponsor continuing education for LMFTs, LCSWs, LPCCs, and/or LEPs.  CIR maintains responsibility for this program/course and its content. CE Credits will be available after the event for a fee of $45. Certificates for CE Credits will be mailed to participants within two weeks following the event. If you would like to cancel your CE application or would like a refund, please contact Nelle and donielle.stanwood@cirinc.org.
---
This training is funded by the Center for Innovation and Resources, Inc. With your support, CIR provides current, research-based training programs that ensure that children, families, and communities are served in a coordinated, holistic way, allowing professionals in the field to implement strategies to improve their practice.